CryptoKami - Decentralized Reserve System
10/05/2018
CryptoKami - Decentralized Reserve System
The conduct of all KAICOs on the CryptoKami s ICO platform must comply with the Compulsory Reserve Mechanism under the Comreme Algorithm via a regulatory contract in order to effectively protect the project owner and contributor community throughout the life of the company or organization.
The New 3rd Generation Blockchain Infrastructure for Global Financial Services
Vitalik Buterins DAICO concept and KAICO - Hiroshi Kobayashis CryptoKami platform for ICOs have the same goal in terms of increasing the power of the contributor community over ICOs, thus reducing the risk of scams or insufficient effort by the development team. Their goals are quite similar but the two solutions have different features.
CryptoKami
CryptoKami is a Decentralized Reserve System. The CryptoKami platform is like the Ethereum platform but is only intended for use by third parties in the financial sector. Financial services organizations launch their ICOs and operate based on the open source Cardano with two CryptoKami s inventions created third-generation POS blockchain named CryptoKami with its KAMI tokens.
Additionally, CryptoKami operates on its own behalf like the US Federal Reserve (FED). This is a core technology of CryptoKami, it distributes and regulates KAMI Tokens under the principle of a Compulsory Reserve Mechanism based on the Comreme Algorithm (CryptoKami s invention) through a Regulatory Contract (CryptoKami s invention).
Therefore, CryptoKami acts as a central bank, and financial services organizations operate based on the CryptoKami platform which acts as commercial banks.
CryptoKami issues and regulates the total number of KAMI tokens ( is limited to 210 million) under the Compulsory Reserve Mechanism based on the Comreme Algorithm through the Regulatory Contract, so it is a third-generation infrastructure blockchain for financial third parties and end users.
Public Presale
What Is Kami & Kamis?

For Mining 110M
Max. Token Amount For Sale 45M
Kami Reserve 25M
Reserve For Venture Investor 10M
Bounty Program 10M
Reserve For Development Team 10M

Token Distribution On Public Pre-sale

Opens at : 11:59 am UTC on March 20 th , 2018
Ends at 11:59 am UTC on April 5 th , 2018, or when all of the public pre-sale tokens have been sold, whichever occurs first.
Total supply 10,000,000.00 KAMI tokens + 200,000,000.00 KAMIs tokens
Price 1 ETH = 800 KAMI or 1 BTC = 11,000 KAMI + bonus 20 KAMIs/KAMI
Minimum Contribute: 0.3 ETH or 0.023 BTC
Maximum Contribute 60 ETH or 5 BTC

Token Distribution On Public Crowd-sale

Opens at : 11:59 am UTC on April 20 th , 2018
Ends at : 11:59 am UTC on May 20 th , 2018, or when all of the public crowd-sale tokens have been sold, whichever occurs first.
Total supply : 32,840,000.00 KAMI tokens + 492,600,000.00 KAMIs tokens
Price : 600 KAMI or 1 BTC = 8,000 KAMI + bonus 15 KAMIs/KAMI
Min KAMI tokens / account : 500
Maximum Contribute 60 ETH or 5 BTC
Hardcap private pre-sale + public pre-sale + public crowd-sale = 1.100M + 10M + 49.26M = 60.36 million USD
Softcap 10 million USD

Purchase Currency : ETH and BTC are the only currency, which will be accepted for purchases. We will provide you with the address to which ETH, BTC payments must be sent, after you complete the pre-registration process. Please note: You must send ETH, BTC from a wallet in which you own the private key. DO NOT send BTC, ETH from an exchange.
If the ICO does not reach the softcap, we will refund to the contributors
Bonus Scale
Lucky Hours
March 19th, 2018 - 8:59 PM UTC
20% Bonus
First Day
March 20th, 2018
15% Bonus
Week 1 Bonus
March 21th, 2018 - March 28th, 2018
10% Bonus
Week 2 Bonus
March 29th, 2018
0% Bonus
RoadMap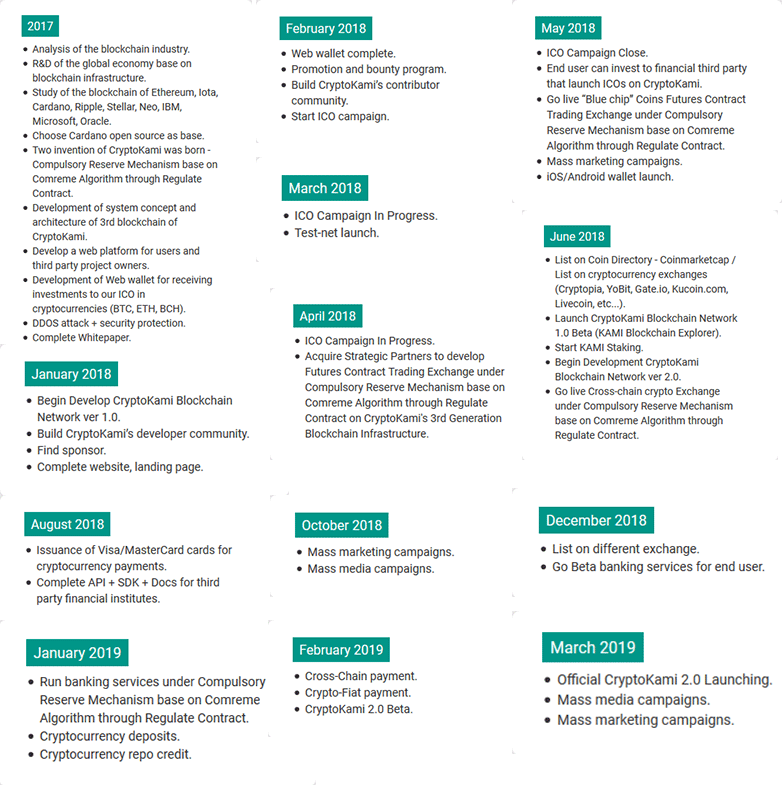 Official Website :
https://cryptokami.com/
White Paper :
https://cryptokami.com/official-whitepaper.pdf
Join Us on Telegram :
http://t.me/cryptokami
Social Media Links :
Facebook : https://www.facebook.com/cryptokamipage/
Twitter : https://twitter.com/crypto_kami
Author: 
Bitcointalk Username: vancuongdbj
Bitcointalk Profile URL: https://bitcointalk.org/index.php?action=profile;u=1667647
Telegram: https://t.me/vancuongdbj